Purchased this unit at the beginning of the spring.
So far so good. Purchased at at Andrews parts and power for the previous years price and with farm discount for 2500 (expensive Canadian money)
Now this is simply just a lawn tractor with bigger tires. I am not using for anything else. I only pull a trailer and a sweeper. Use my old ford lgt 145 for blowing and tilling.
The 25hp Kohler runs excellent so far and turns the 50 " deck with ease. Knocks down foot high grass without shuddering. I put on 35-40 hrs this year
The deck Hangs off the back with two cables and there is a spring loaded deck lift that works easily. And. You can set your height consistently with this setup. Deck never scalps period.
The deck comes off easy only issue i have is with the belt keeper rod being a pain to remove. But still easier than my old ones. (Except simplicity)
I don't like the deck wash port and never though it would work and frankly it doesn't. Maybe if it was used every time but I fear that would speed up deck corrosion.
I cut the ditches here and the tranny handles it very well. No problems thus far.
This unit has the electric power steering which is unnecessary but does work well. Probably be the first thing to break. But who knows.
Tractor turns tight within a foot which can make cut marks in the grass if it's wet but not too bad.
Controls are laid out pretty good. Moveable seat lets me or the girlfriend use it comfortably. I am 6'4" with size 16 boots and controls are comfortable for me.
All in all I am happy with this purchase. Mower does it's job well with sufficient power. And I think with proper care regular greasing and oil changes and deck cleaning it will last a long time. I should add that it came with a bad tire (bent rim) which was replaced by the dealer right off the bat. I would recommend getting this from a dealer. I suspect most complaints come with machines not being setup properly by Home Depot flunkies.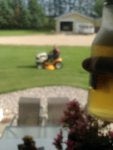 (Even the girlfriend likes using it all the time)
Thanks for reading!