Discussion Starter
•
#1
•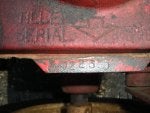 Hopefully I will get some input on how to go about refurbishing this tiller and answers to my many questions to come. I bought this at an auction. It had the gas tank completely drained and the inside was clean and new looking. It had brand new Stens super LUG 2 PLY agro tires. They still had the bar code stickers on them and the tires have all the nubbins or hairs that new tires have. The cheapest I found ten online for was $69 but they were mostly in the $90 range, some over $100. They are about an inch long. The 2 belts could be new also. It had great compression too. It looks like somebody had it all ready to go for the season. It was owned by a tree farm that suddenly went out of business. I expected it to fire right up after putting some gas in it. It didn't. I took off the carb bowl and it had a light blue thin oily feeling liquid in it and tons of sediment. The throttle cable was rusted fast and somebody was trying to move it and broke of the wire at the lever. I hooked up a new throttle cable. I put in a new spark plug and it has spark.
It did fire up when I used starting fluid and kept running as long as I gave it some spray. It sounded good too.
The engine is Model K161T Serial # 10208855 Spec # 281271j The 102 indicates it was made in 1980.
The tiller Model # is most likely 502230 even though it looks more like 50223 but 50223 indicates 1973 and 502230 indicates 1980 same as the engine. The pics I have of the number show a potential 0 over to the right and lower then the other numbers. It isn't even a good solid whole 0. The builder was a sloppy stamper that day.
So I took the carb off, ordered a carb rebuild kit and an engine gasket kit just in case I have to tear into this. I was taking the carb off and one of the shield plates and 2 flywheel fins were broken off and laying there. When I removed the shield and exposed the flywheel it didn't have any fins on the flywheel. Most were gone and a few were just minimally there. I will get a pic tomorrow.
I guess it is true that the fins are for cooling and not for balance because this tiller ran on starting fluid. Should I not worry about the fins and see if it runs or get a used flywheel that has all the fins? How does somebody even break all the fins off?