original
​
This thread is dedicated to the resurrection, preservation and continuous enhancements of my newly acquired 1977 Economy Tractor. In it you will find in chronological order the beginning of when I first got it to other miscellaneous projects and updates that I will be doing, or, have already done to it. A lot of times you might find my writing style a bit long-winded but I like to document what I'm thinking as I'm going through each project to look back upon to remember each step of the way. Feel free to skim, or, follow along if you enjoy all the details.
My Previous Background With This Tractor:
I bought this tractor in May of 2013 from the family who bought it new. Growing up as a young kid, I used to watch across the chain link fence as they would mow and always thought that it was one of the coolest looking tractors. It was the loudest machine with the mowing deck on, as soon as I'd hear it fire up, I'd go running out to go watch it creep around in 1st gear. It has had an easy life of strictly mowing a 1/4" lot and was used on and off for that job until about 5-6 years ago where it hasn't been ran since. In fact, it was always stored inside their garage until it lost its space to a supercar of all things! I had always figured that if I had asked them about selling it I would get rejected but I realized that if I didn't, I would always wonder. My initial hesitations were turned around as in fact they were, possibly even going to sell it this summer and seemed happy to have the interest!

Inspection Time:
When I went to go inspect its condition, it was really neat seeing it up close again and remembering back. I was happy to find there were no dings or major rust and even all of the decals were still present. What I do remember though was the paint being shinier than it is now, more red in color... we're going to have to do something about that eventually. I was a little bummed however to find this machine is not equipped with a hydraulic lift, I would say the majority of 1614's that I've seen have this setup so I was going into it expecting that it would. At first it didn't bother me, and I will quote myself from another thread:
"The bummer is that it does not have the second transmission, or, hydraulics- which in particular was really hoping that it had. Is this a deal breaker? Not even a slim chance!".
BUT, after thinking it over more and what my intentions were going to be for it, it did. So much so that I actually took a few days to research my options before I committed to it. I knew above anything else I wanted an Economy Power King after seeing this one in person again, but I knew that I needed that hydraulic setup for a future blade attachment. I asked around on a few forums that have very knowledgeable members on these particular machines regarding the logistics of a conversion, and my concerns of finding the parts and being over my head were immediately put to rest. I learned there aren't a million and half little intricate pieces that make up the hydraulic system and for the most part, they are fairly easy to locate and some can even be bought new as well. The more I thought about it, the more it became obvious and clear that I should choose this particular machine over finding one that I had no history with. What was I thinking finding a whole different machine when I could have this one that I have had a past with? Isn't that alone worth it I asked myself? When I attempted to bring it home, something was seized as both rear wheels would not turn. It took starting it and putting it in to gear momentarily to break whatever was lose, free.
Here is a video bringing it home. FYI, we are tractor friendly of all colors so please refrain from negative comments about the John Deere pulling it if you feel the need to do so. I really don't think that will be a problem here but it sure was at some other places I posted the photos.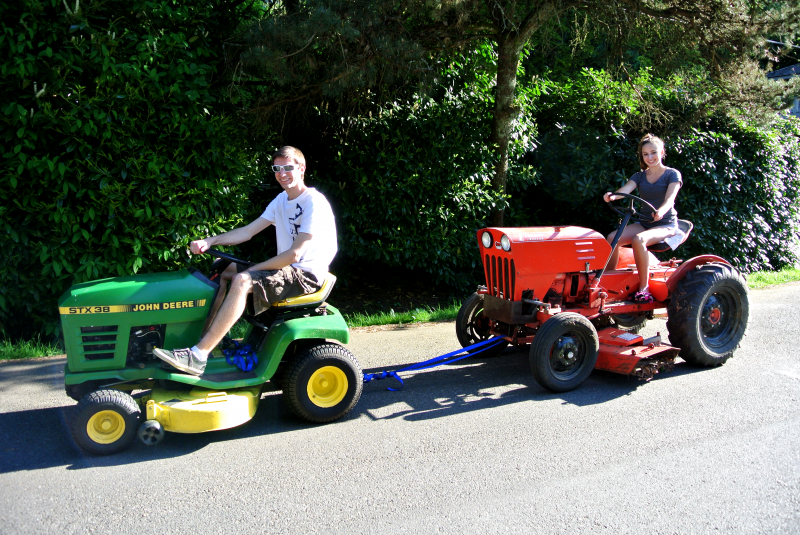 Back to Hydraulics
While I was doing research on conversions, a member referred me to someone who was parting out a 1976 1614, all of which had hydraulics. Just for fun to get an idea of what I'd be paying for a whole setup for reference purposes, I sent an email to him to see what he'd have to have for the complete system. After pricing some of the individual parts such as on Ebay that make up the system, I was shocked when he offered me what he did. He was super knowledgeable about these tractors and we talked close to 1/2" on the phone about them and how to do a conversion. So the big surprise here is that I bought a complete, functioning, hydraulic system for my machine and will eventually be doing a conversion! I am pretty darn stoked. What's funny is that even though this machine is a manual lift setup, the belt for a hydraulic pump is already stored in the machine where pump gets mounted!
I do have some other ideas drummed up that I have in mind as well. Some of them you may not like, understand or agree with some of them but the fun is to personalize your machines to your own liking. I partly bought this tractor as a means of a continuous project to tinker on, on the weekends. This means that not everything will be happening all at once so as I go along everything will get covered as the time comes.
In a mostly sequential order that is more than likely subject to change, here is what I have planned to do so far:
1. Clean up/degrease entire machine
2. Clean fuel system
3. Replace sparkplug, air filter
4. Install a battery box and new battery
5. Change out all of the fluids; Engine oil, transmission, differential, gear cases, steering box. Grease zerks.
6. Replace front tires with next taller size
7. Space out front and rear wheels 1-1/2"-2"
8. Sharpen blades
9. Repaint front steel lower grill guard
10. Buff out paint- It
was
shiny!
11. Install rear LED spotlight won from MTF's April 2013 MOM contest
12. Hydraulic conversion
13. Locate and install a rear grader blade on the 3 PT.
14. Have seat recovered
15. Locate and install the optional second transmission feature
The photos seen below were just as I got it, original dirt and everything.