Discussion Starter
·
#1
·
So I got the 1965 7254 running this afternoon. It didn't have a plug, so I pulled one from another machine. It doesn't appear to be priming and it wouldn't start on gas alone.
So I gave the carb a short squirt of Quick Start and it fired right up on first pull, and kept running. I expected it to die right away, but it kept going.
The kill switch doesnt work (it was missing, so I pulled one from another machine, and it still didn't work) so I had to shut it down by putting my hand over the intake.
The under side of the flywheel is rubbing on the dust shield between it and the top of the block. Haven't taken the flywheel off yet. The machine has been partially dismantled in the past...perhaps there's a spacer or something missing from the underside of the flywheel? I just looked at the parts diagram, I don't see any spacer.
If I lift up on the flywheel, there's about 1/16" play vertically. When lifted, the flywheel still rubs on the dust shield
The fuel filter foam puck is also crumbling, it's in the garbage now. Do I really need to buy a replacement part, or can I cut a piece out of some type pf foam? Is there a specific type of foam (I'm sure there is).
The 1965 7254 is the one on the left: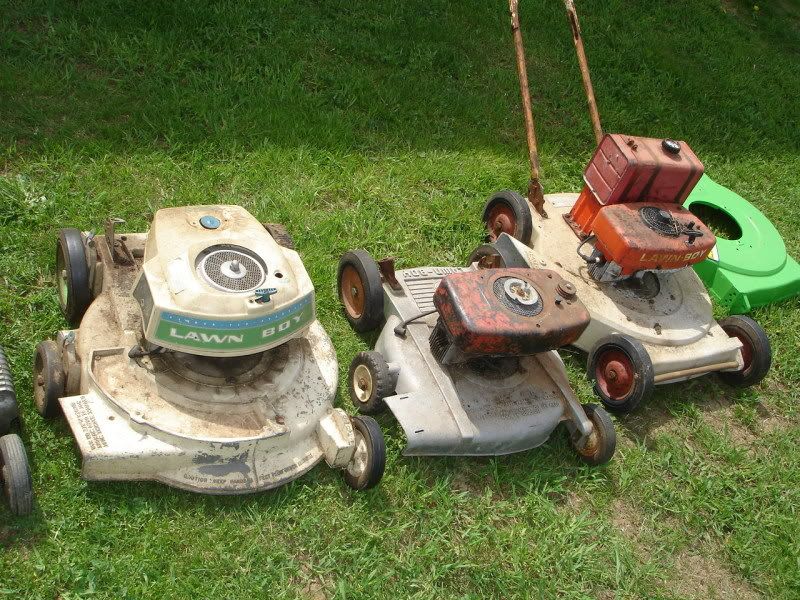 Cheers,
Coop