Well guys, I got the Lawn King!! It's a 1947, 26".
Here is my previous thread that I posted earlier in the week when I first saw it listed on Craigslist, (
http://www.mytractorforum.com/showthread.php?t=141873
)
This thread will also serve for updates as I post the progress of getting her going.
She's in pretty darn good shape for her age. It does have a fairly good sized dent on the front of the gas tank which I already kind of knew about from viewing the photos, so I will need to fill that in. One of the tires has a bad leak, so I will need to get a new tube in it to roll it around easier. Other than that, it is 100% complete and in nice shape. Nothing broken or missing. As I mentioned in the earlier thread, I bought it from the original owner. He mentioned that when he used it, he rode on a sulky behind it but no longer has that. He quit using it twenty years ago as it just got be too much mower for him to handle he says. I can believe it as the thing is a real tank. He me that he wants me to send him some photos of it once I get her fixed up and told him I would with a video of it running. The recoil just pulls right now and doesn't catch. My guess is that the retaining balls are stuck inside the starter ball cup and need to be lubricated with some graphite so that it will catch. I already pulled the spark plug and tried rocking the motor back forth a little bit and did does just a little bit, so getting it in un-seized shouln't be too much of an issue I hope.
A little info on Lawn King's for starters. They are rated at 1 3/4hp and have a Jacobsen built 521 "commercial grade ball bearing, hi torque two stroke engine". These mowers were made for mowing large areas of lawn like parks and cemeteries as described in the ads and brochures. It is rated at mowing 2 ½'-5 acres a day and can also be driven with the drive engaged without the reel turning which makes it nice for transporting around and loading up.
Anyway, I'm really excited about this mower and is neat to finally own one of these! Infact I couldn't hardly sleep than night before thinking about it, lol. As I stated in the other thread, I've been looking a couple of years for one and had come across a couple, but both were across the country from me and shipping companies were quoting me prices much of what it would be to ship a car! When I did find each of those, I was little nervous turning them down in a way because I was worried it could be hard finding others that were complete and still in decent condition, as they were described to me, but knew that there had to be others out there that I would eventually come across too. This really couldn't have worked out better as not only was he less than a half an hour away from me, but it is also the early style that I have always wanted to find as well that has the front grill cover.
My plan is to actually not do a complete 'ground up' restoration on it right now. I will do a complete restoration on it one day, there is no doubt at all about that, but for now my plan is to just get her running & operating again and cleaned up along with doing some little changes & upgrades. See below. Restoring this one from 'the ground up' is going to be more labor intensive than the LQ was due to the fact that it's bigger and simply has more to it.
The plans for now:
• Get the engine un-seized!
• Replace a tube in one of the tires
• Thoroughly clean her all up and polish up the two trim pieces
• Go through/check/rebuild carburetor
• Check ignition- If no life left, convert it to electronic ignition
• Fill in dent in gas tank
• Install Por15 tank coating liner
• Install new rear 'swivel pneumatic adjustment caster' (more on that mod described below)
Restoration Plans:
• Rebuild engine; new seals throughout, rings, bearings hone cylinder etc
• New tires and tubes
• Convert it to electronic ignition if I hadn't already so
• Sandblast, prime, paint, clearcoat all the painted parts. May have everything powder coated instead.
• New decals
• New 'coke bottle' original style hand grips
• Re-chrome the two trim pieces
• Other things that I'm not thinking of I'm sure!
So, that's really the breakdown of what my plan is to do with her now. Un-seizing the engine is really the top most priority of business to take care of. If there is still life left in the ignition system, than I will probably just leave it for now and convert it to electronic ignition later at the time of the restoration.
I'm going to remove the muffler first so that I can see if the piston is covering the exhaust ports. This will tell me if I need to remove the head or not to inspect the cylinder and clean it up should there be any, well let's hope not, rust build up or gulp, pitting.
There's one modification that I'd like to do to the mower and that is to replace the rear cutting height adjustment shaft assembly that has the small solid rubber rear wheel on the bottom to a pneumatic tire with tread that also has a longer adjustment shaft for a couple of different reasons. First, I figure since the front tires are pneumatic, the rear swivel wheel should be a true tire with tread as well and I have found a company that makes such a thing with the right diameter shaft dimensions that should work and bolt right up with probably a little modification here and there I'm sure. It is made for a gate and comes with a bracket mounted on top as you will see in the picture, but they told me the bracket is totally removable so it will just be the straight shaft and swivel wheel, so this will be perfect. Here it is,
http://cgi.ebay.com/8-Gate-Caster-S...md=ViewItem&pt=BI_Casters&hash=item1c14607b1c
. Not only will the bigger rear tire look better, but it will raise the mower up and allow for a further cutting height and because this has a slightly longer shaft than the stock one does, you will be able to even raise the cutting height up even more. At this point you're probably saying by now, "why on Earth do you want the mower to be so much taller"? Well, this is actually very good because if you don't know antique reel mowers, the adjustment intervals on a lot of them are very very low, so this will be serving a practical purpose and function to its usage. Just to give you an idea of how low the stock adjustments heights on this are, the specs on it is: 5/8"- 2 5/8". With our yard here in Washington State, you cannot cut it below 2.5" as it will make the lawn start to look yellow, even when the grass is in its prime and perfectly green during the spring. Doing this modification will easily get it to cut 3" and over in cutting height, and unless I cut the adjustment shaft down, I bet you could almost raise it up to the point where you could cut brush, haha.
As I mentioned in the beginning, I will update this thread with updates and pictures of the progression as I go through the mower and get her going again. I won't actually be able to do too much to it for a little while yet because of an exam I have to take next week that I'm focusing my attention on now, and then I'm leaving for a two and half week vacation starting the second week in August, so I have to get ready for that. My goal is to have the engine unseized before I leave for the trip and I'm sure I'll get to a few other small things on it before I leave as well. Having this in mind to work on though will be a sure fire way of helping me have something to look forward to coming home to at the end of my vacation.
Thought I'd post some photos that are out of my brochures of the Lawn King for fun as well,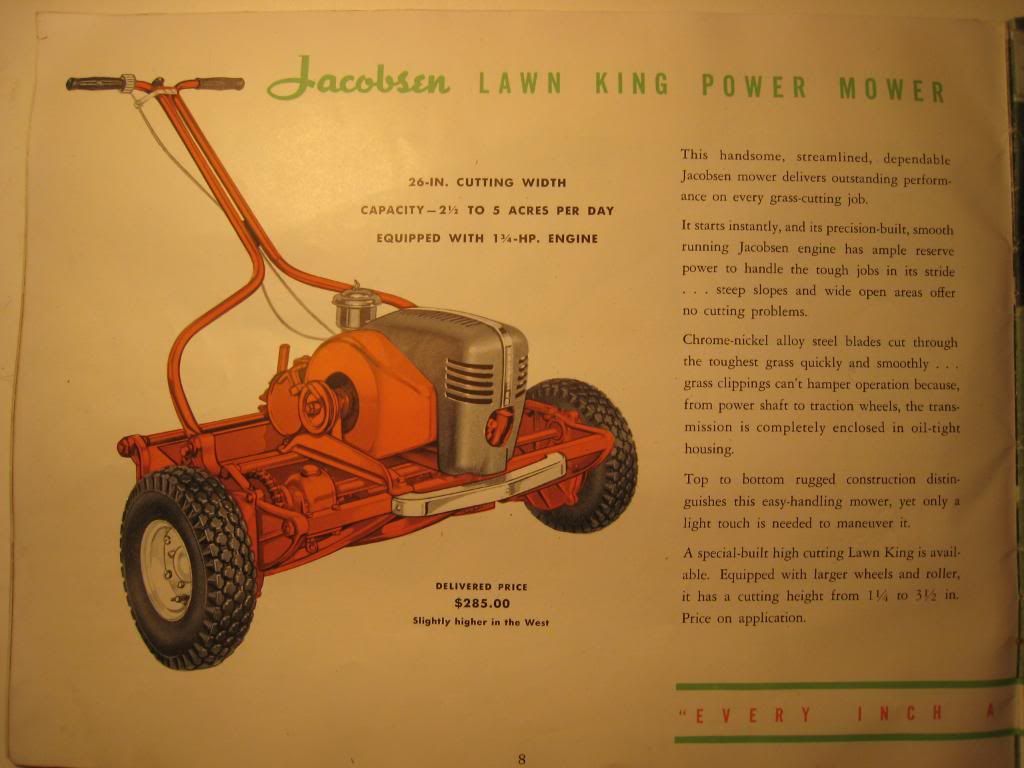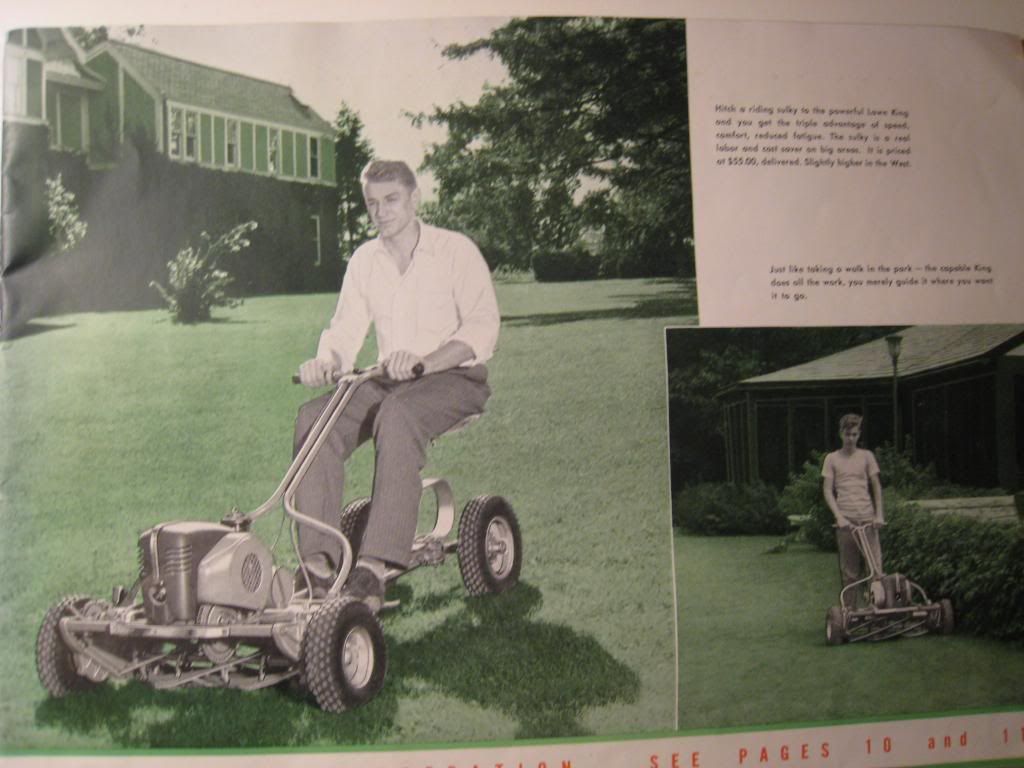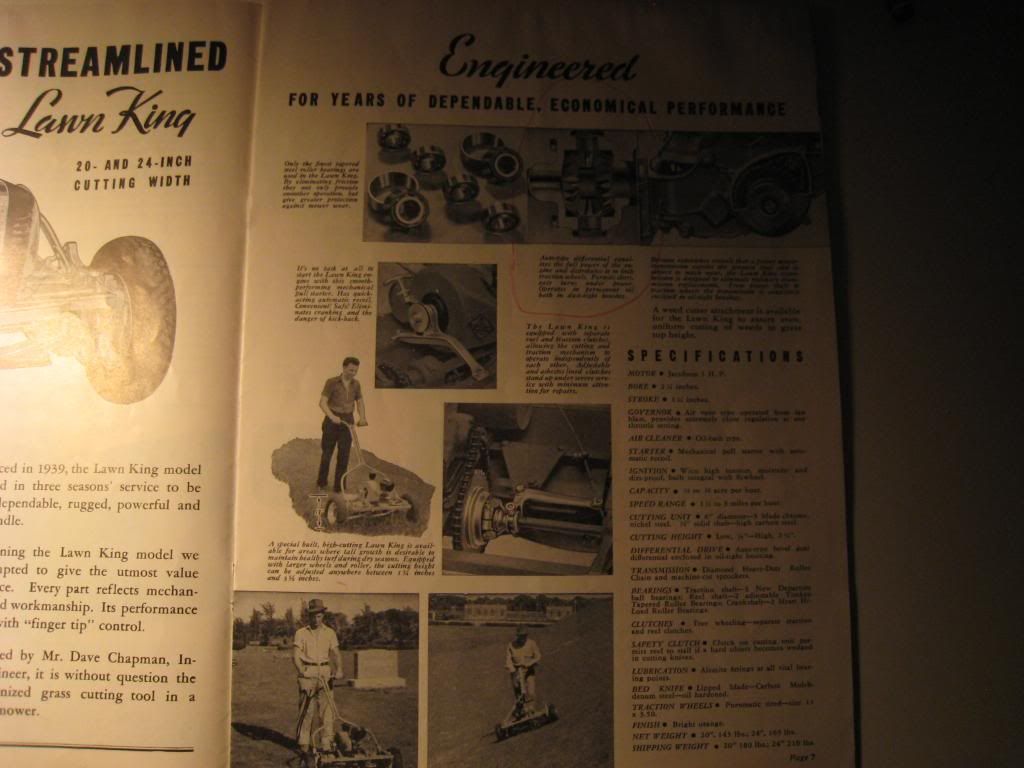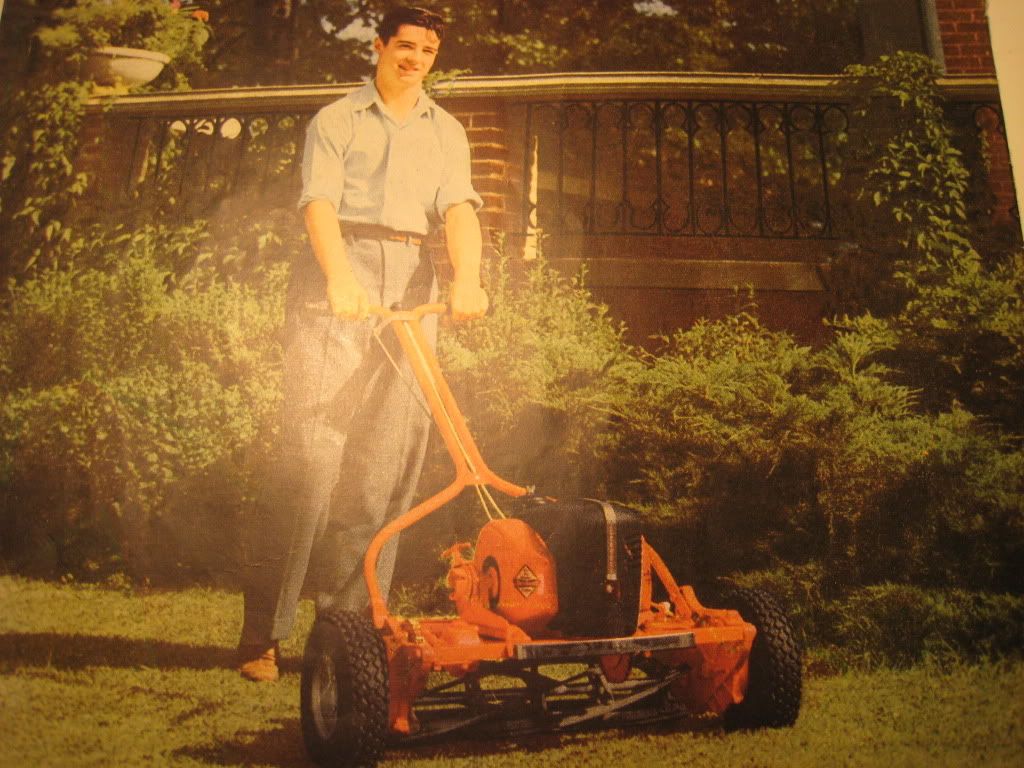 Keep in mind I haven't touched the mower yet, and it is extremely dusty and greasy from sitting twenty years in basement.
How I brought her home. Sure got the looks from some people.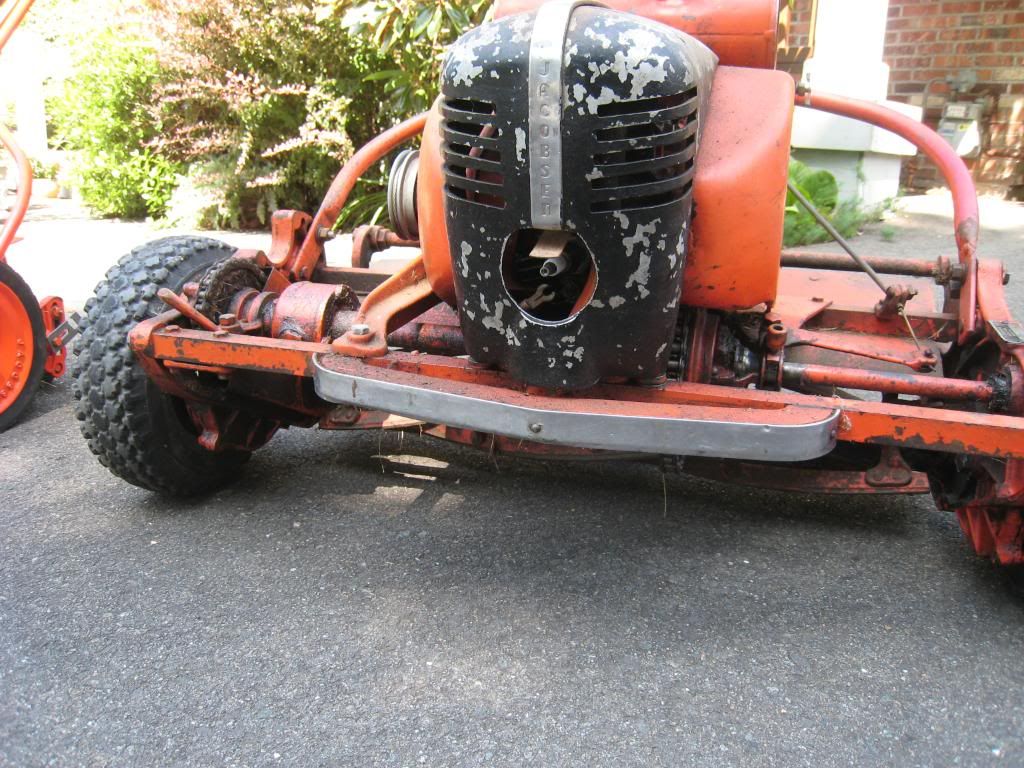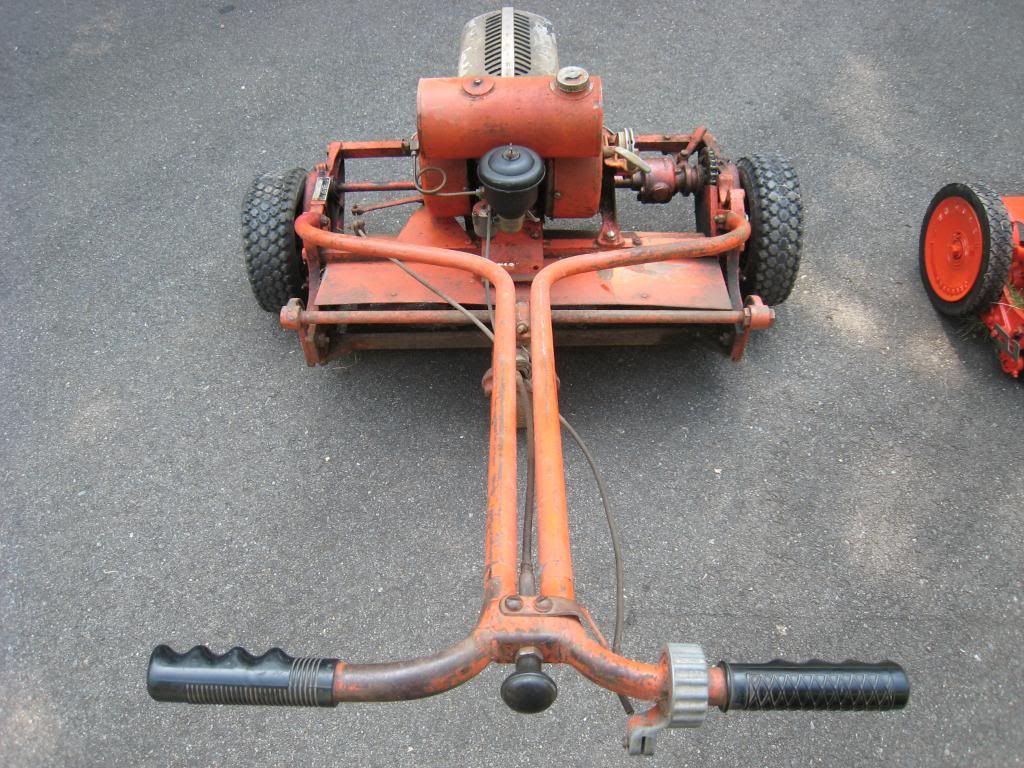 Opperators view.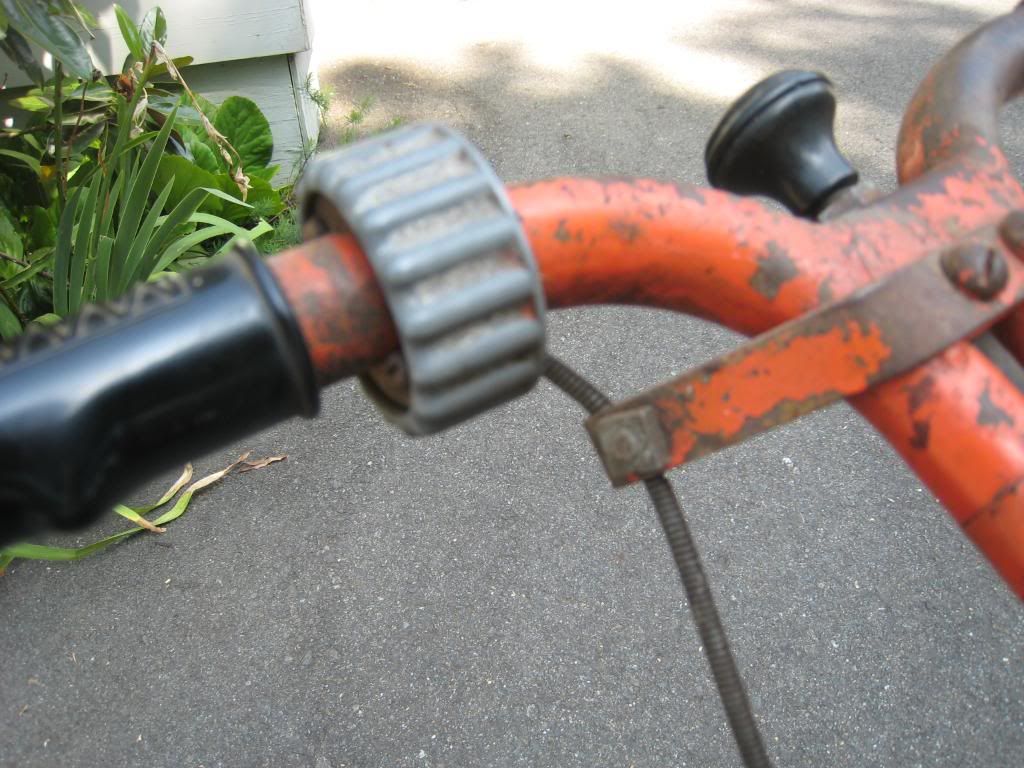 The way the throttle works is kind of cool and interesting. You twist this wheel. The owner led me to believe that it was broken from what he stated in an email, but it is not and works fine.
Next to the '49 Lawn Queen for size comparison.
Sorry as I know this got to be long if you read it all. I always end up getting carried away on these things as I guess part of the fun for me is writing and talking about them.