Ok, I was going to do one post once I got it completely built, but I have some questions so I will post my progress.
I just want to say, I'm a shadetree/backyard fabricator using a HB 220V flux welder, 4 1/2" grinder, and 1/2" drill. Things aren't perfectly square, cut even, but it works for me.
I want to thank Umaxman and Dmorill for their threads on snow plow builds which gave me most of my ideas/design along with many others including the "e-bucket" thread which gave me my first thoughts of building my own.
http://www.mytractorforum.com/showthread.php?t=215131&highlight=snow+blade
http://www.mytractorforum.com/showthread.php?t=211316&highlight=snow+blade
I obtained a blade only, no mounts and decided I wanted to build a mount that would take some abuse and do what I needed. I came up with a winch lifted snow blade (phase I) and will add a clamshell type bucket maybe in the spring(phase II).
Yes I mentioned dump bucket, I bought one couple guys built, it needs some improvements and I keep forgetting to get pics during the day, I will get ASAP.
It may appear I'm over building, but I want to do this right the first time and from past experiences taking short cuts, I'm not on this one. This is my first real build of anything so I'm taking time and trying to do it right.
Ok, so I decided on a mule drive type mount, build it out of angle. Worked out pretty good, had a couple little stumbles, but fixed them. I originally was going to use 1/4" plates and weld everything to it, but got a hold of some 2" tubing so just used it and welding angle around it. I got a Harbor Freight 2000# winch and decided to mount angled pulley above winch
( thanks Doug for idea) which give a little more leverage and I have plans for something else down the road which will utilize the pulley system. So far I've built mule mount, winch mount, and am now working on blade mount which is where I may have a slight road block, hoping you all have advice.
I will continue to post pics as I get more fabricated and finished, Hopefully blade will get done by next week so it will be ready for snow. Clamshell will most likely be a spring/summer project, plus I will have to get steel to do it.
Just giving you all a little taste :thThumbsU
So here some pics I'll post in a couple posts.
My tools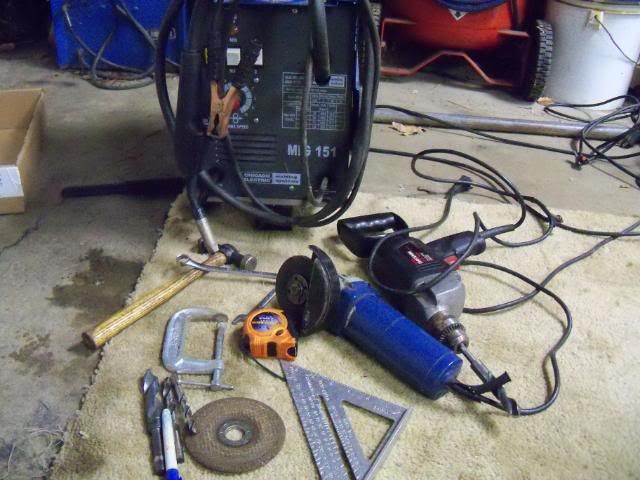 My materials, blade bunch of metal, winch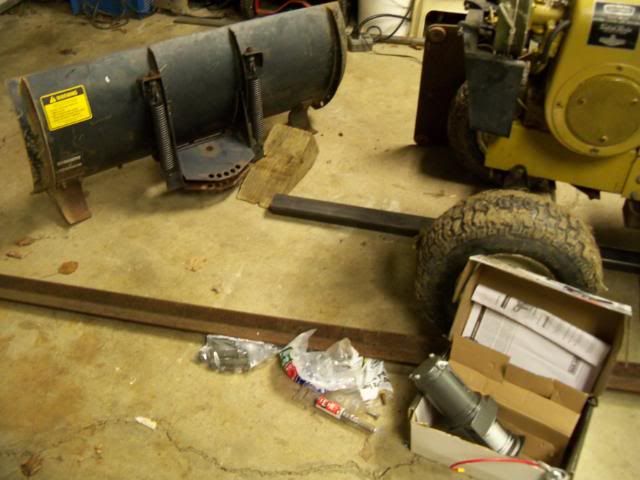 Initial angle mount. I cut slots in rear, welded bolts in front I can tighten down to hold in place