Argo 8x8 the fun begins...
---
last september i picked up an old argo for a good price that needs alot of work. well this weekend i finally got it out of the storage garage and into shop to start the build. the previous owner bought it as a project with no motor, cracked plastic around the rear hitch, rear frame where the hitch mounts in bent and so is the rear hitch plate, tires are shot, chains are useable, seats are gone, and floorboards are shot. i have two motors for the argo, a 2cycle kawasaki 340cc sled motor and a small diesel motor from one of my generators. the kawasaki is going in the argo because i have the clutches and everything needed on hand. eitherthe diesel i have or a different small diesel is what the argo will end up with eventually but tires and tracks are expensive and are more of a priority now. i got the argo into the garage and cleaned it up enough to start working on it. the motor mounts to make the kawasaki work have to be made 4inches higher than the stock mount for the air intake manifold to fit , have the mount material all cut and ready together tomorrow. once the motor is mounted everthing else should come together fairly quickly
before the leaves and crap was cleaned out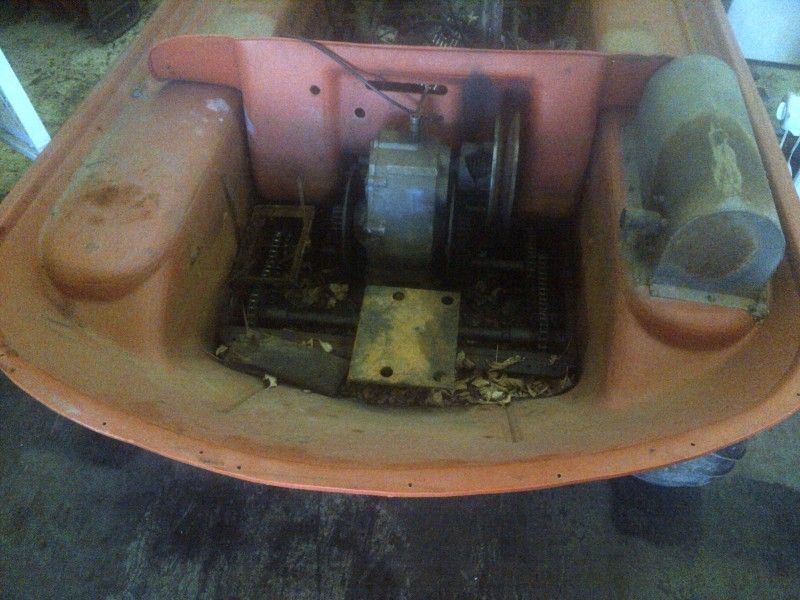 after a quick clean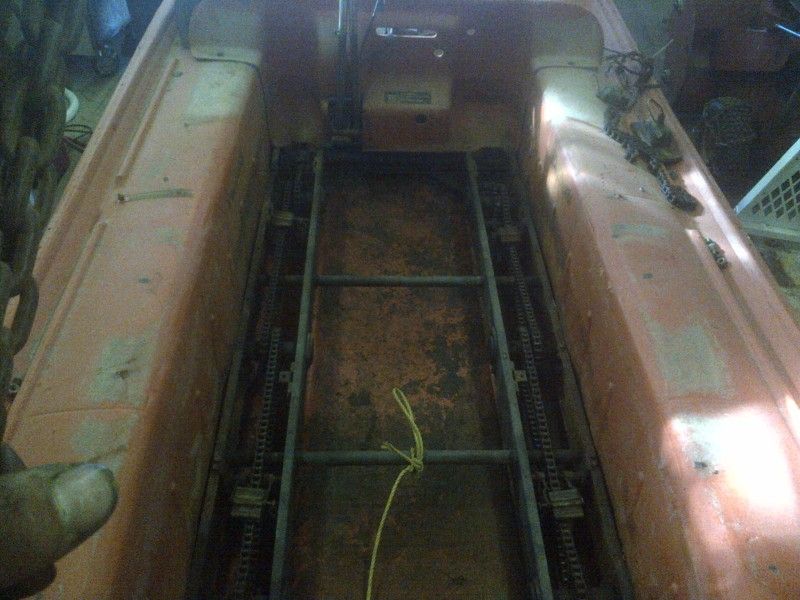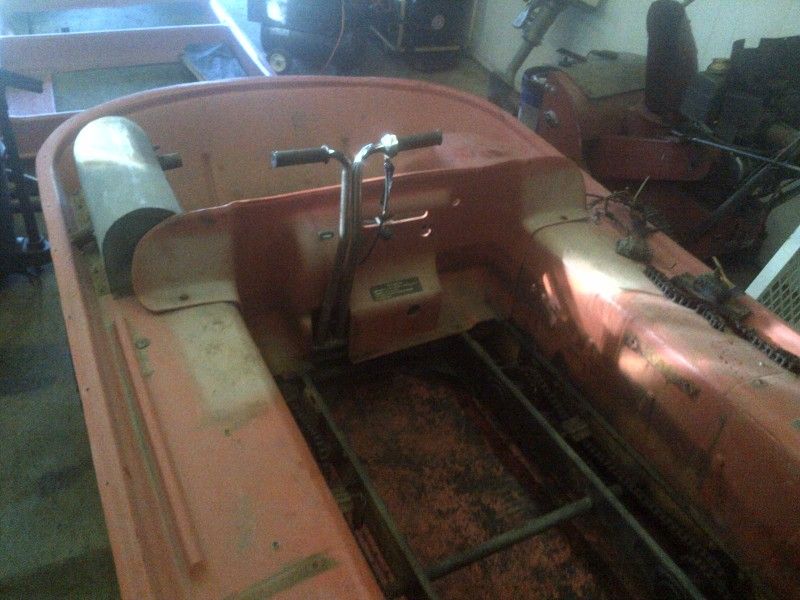 motor sitting in the machine during measurements for new mount
more pics to come as the build proceeds
---
1987 John Deere 165 w/ 38" deck, 44" berco blade
1974 Case 446 w/deck, tiller, snow caster, moldboard
1968 Ford 100 42" deck, 32" tiller
MTD 960 W/loader
Massey Ferguson 7-awaiting repowered
Roper GT18
Ford LT-75-awaiting repower
Ford RMT 66
15hp MTD w/42" deck, 40" 2 stage blower
Agrifab 42" sweeper, 35" spike aerator, moldboard plow, potato hiller, homemade sprayer and 2 Cultivators
Re: Argo 8x8 the fun begins...
---
Cool project. I am also restoring an amphibious atv. The deisel would be awsome. You can get a 40 series clutch for the engine. The hard part is to get the clutch to engage at a lower rpm. I slapped a 500cc motor in mine. Keep us posted.
Currently Active Users Viewing This Thread: 1

(0 members and 1 guests)
Posting Rules

You may not post new threads

You may not post replies

You may not post attachments

You may not edit your posts

---

HTML code is Off

---