Wright Stander RH 52" -review
---
I wanted to get back to this thread and give an update:
I checked out what the market had to offer - tested out a bunch
and once again concluded the Wright Stander Rapid height series are still considered the best - of course that might sound biased but thats from many conversations with the pros that use them - They take up less room than most W/B as well - but they are not cheap -
I use this one at my residence and local maintainence - its not in the daily mix. I had 4 local maintaince stops that are 2-3 acres + with some steep slopes relatively speaking - I didnt feel comfortable or in total control without sliding on the Wright Stander in some areas, so my Cub 3204 w/ AG's take care of them without an issue. I dont have a mower for my 2520 (maybe a RFM later), but on the straights I can cut full speed with excellent results on the Wright Stander- makes short work of large lots fast..I use 3 gator blades and never have to bother with clippings, but have a gobbler (metal catch basket) when needed for tight areas where I cant discharge. Im impressed with this machine no doubt about it -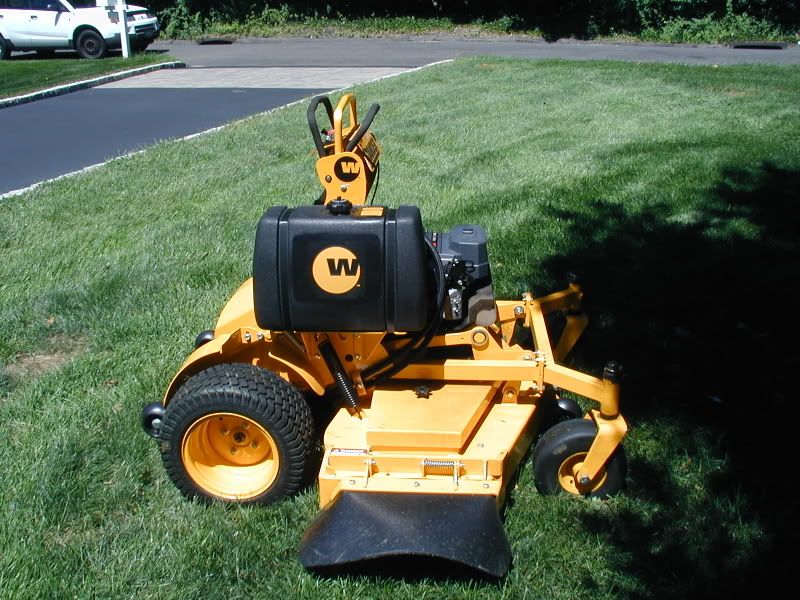 ---
New to the Fold: 2008 Kubota L39 TLB
JD 2520, 210Cx, 46BH,, Cub 3204 with Blower & Simms Cab, Mowers (44",48",50"), Ford 2006 F550 turbo diesel 4x4 w/11' mason dump, Wright Stander mowers, and more !!
www.machineunderground.com
MTF Junior Poster
Join Date: Nov 2008
Location: Indiana
Posts: 3
Re: Wright Stander RH 52" -review
---
I agree they are the best I own 3 of them for my landscaping and lawn care business I have been in business for 15 years they are the best mowers I have owned and used.


Brad
Currently Active Users Viewing This Thread: 1

(0 members and 1 guests)